In stock
Nostra Italian Style Meatballs in Tomato Sauce 850g (12-Pack)
$204.00
ALL FROZEN PRODUCTS ARE ONLY AVAILABLE FOR PICK UP
Per Unit Discounted Price – $12.50
Italian Style Meatballs In Tomato Sauce – Since 2000, Nostra Gourmet meals have been made by hand with the same care and attention to detail that you would use in your own kitchen. With only Fresh Flavours and No Additives, we can be sure that Nostra's products have a homemade feel and taste. Heat up Nostra's meatballs with tomato Sauce and add them to your favourite pasta or eat them plain. This classic yet versatile dish can be brought to work for an easy lunch or made into a sandwich for a homemade meatball sup – bring the taste of home with you wherever you go.
Ingredients: Tomatoes in puree (tomatoes, citric acid), onions, red peppers, carrots, celery, garlic, vegetable oil, basil, spices. Beef, water, textured soy protein, dextrose, toasted wheat crumbs, soy protein concentrate, seasoning (parmesan cheese, spices, spice extractives, dehydrated garlic, parsley, onion powder), salt. Contains: Soy, Wheat, Milk, Sulphites.
Description
Nostra Gourmet Foods offers the perfect go-to-meals for events, family dinners, or for a homemade taste any night of the week. Nostra uses only fresh ingredients, prepared by hand. Every Nostra recipe has been passed down for generations, always staying true to the timeless flavours. Nostra specializes in Italian classics and has an exclusive line of lasagna, cannelloni, shepherd's pie, and meatballs. Maple Mart is proud to be Nostra Gourmet Food's official online retail partner, offering delivery exclusively in the Greater Toronto Area due to the frozen nature of Nostra Products.
Click the image below to see our entire line of Nostra Gourmet Foods products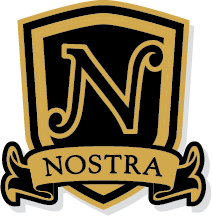 Nostra Italian Style Meatballs in Tomato Sauce 850g (12-Pack)
$204.00
Add to cart